IMPROVE SAFETY AND RELIABILITY WITH INSTANT ARC-FLASH DETECTION

IMPROVE SAFETY AND RELIABILITY WITH INSTANT ARC-FLASH DETECTION
Fast Arc-Flash Detection in Less Than 1 ms
Minimize Damage. Circuit breakers (CBs) or overcurrent protection devices (OCPDs) alone do not provide optimal protection for your personnel and equipment. The Littelfuse Arc-Flash Relays rapidly detect an arc flash and send a trip signal to interrupt power.
The Littelfuse Arc-Flash Relays use a 125-μs light-sampling scheme in combination with an ultra-fast IGBT output to be able to detect a developing arc flash and send a trip signal to a circuit breaker in milliseconds. Light instead of current is used to detect arc flashes.
Discover more! Download the brochure!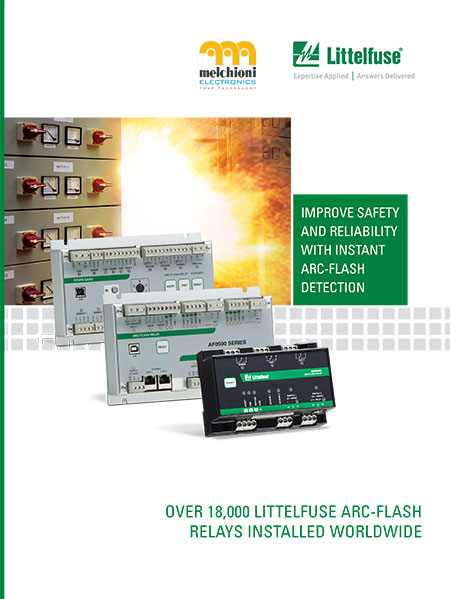 Simple Plug & Play Installation and Maintenance
The Littelfuse Arc-Flash Relays and sensors are easily retrofitted into existing switchgear or pre-installed in new equipment with little or no configuration. Even elaborate systems only take minutes to configure using the relays' built-in USB interface software, and the innovative digital inputs/outputs on the AF0500 and AF0100
Improve sustainability and life of electrical equipment
Lower the PPE Category of the equipment
Provide protection against equipment damage and potential injury to personnel or incident energy
Easily installed without changes to existing layout
Flexible sensor configuration for any application
No additional software is required
PGR-8800 Application Example
Switchgear Protection
The PGR-8800 monitors each cabinet with a PGA-LS10 point sensor, providing arc-flash protection and fault location indication. The entire length of the back bus bar is monitored by a PGA-LS20 or PGA-LS30 fiber- optic sensor. The PGR-8800 uses current transformers to monitor the current, and trips the local "feeder" circuit breaker only when high amounts of light and current are present. The PGR-8800 is also configured to only trip the upstream "main" breaker if the local circuit breaker fails to open.