Projected towards Europe
An Italian and independent company, but with an eye to internationalization and with a greater vocation to digital. This is Melchioni Electronics today led by Ermanno Maffè.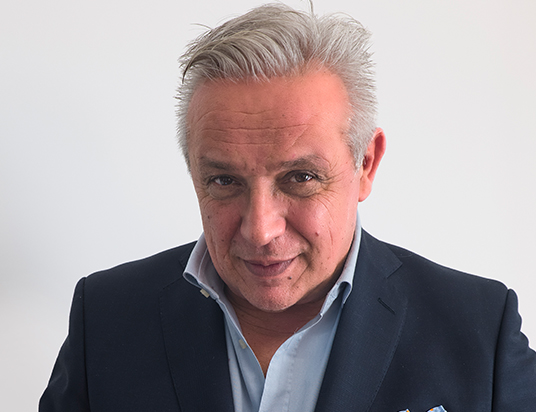 Ermanno Maffè
The Melchioni Group certainly needs no introduction. However, over its 75 years of history since its foundation in 1947 by Mario Melchioni, a great deal has changed. Who is Melchioni today, and how is it structured? What have been its most evolutionary important stages?
We put these questions to Ermanno Maffè, a veteran of the retail industry who joined Melchioni in 2018 and took the company's reins at the start of 2021 as General Manager: "Melchioni is an independent Italian group, with the family's third generation now at the helm. Over the years, the company has undergone several evolutions, the most important undoubtedly being the one we have experienced in the last three years. The arrival of Mario Melchioni as Chief Executive Officer made us look within the company in search of a better market positioning and develop new strategies and models. We therefore reorganised the company, which historically operated vertically through independent divisions that reported directly to the owners, creating a new, horizontal structure led by executive managers with a blend of different skills who now make decisions as a team alongside the owners. We have also initiated a new process of company digitalisation involving implementation of a new computer system better equipped to support our clients' requirements and the company's future expansion which, by the end of the year, will yield an e-commerce platform conceived to support us in our global growth. In addition, we have continued the process of internationalisation we began several years ago, focusing greater attention on the European market."
As Mr Maffè explains, the Group now encompasses the parent company, Melchioni Electronics (historically a retailer of electronic and industrial components with solutions and services tailored to its clients), the new Melchioni Ready (an e-commerce company formed in 2020 and operating in the field of MRO selling small quantities online with fast delivery), as well as Melchioni Motion (a small company with big potential thanks to a business model of its own based on customised manufacture of air-conditioning systems for special vehicles). On this journey through Melchioni Electronics, we were also accompanied by Michele Busnelli, Product Management and Procurement Director, and Roberto Cioccolanti, System Integrator Manager.
What is Melchioni's business model? What are its strengths and distinguishing features?
E.M. | We want to present ourselves to the market as the Eataly of electronics, in other words as a supermarket that sells everything the client needs but with a strong focus on the brand we are offering.
We are distinguished from small retailers, having a complete and diversified product offering, and from large ones, being more focused on the brand and on partnership with suppliers. Our business model differs from that of the multinational electronics giants for whom commodities and volumes play a key role whereas we believe that service levels, in terms of delivery, stock and the technical support we offer the client can still make the difference. Melchioni also benefits from a high level of human loyalty, which is then passed on to clients and suppliers, a unique value confirmed by franchises we have partnered with for over 40 years and clients we have worked with for over 30 years, truly making the difference.
Your history is also marked by acquisitions. What has this meant for you? Do you see more potential candidates?
M.B. | We completed our product range with Acsel and Comprel. Acsel has made us a player in the world of LED lighting, thanks to brands such as Seoul, and Comprel has significantly increased our business in the embedded market, with the introduction of new products like industrial PCs and subsystems. Both these acquisitions have brought us great satisfaction. Comprel, in particular, aside from its size, has enabled us to take advantage all possible synergies, yielding important results which are confirmed by the fact that everyone from Comprel has stayed with Melchioni, thus contributing to the success of the venture. At this time, I do see other potential acquisitions but within a perspective more oriented towards Europe and the markets we have not yet entered.
Since 2016, Melchioni has been expanding beyond Italy's borders. What fruits has this borne for your business? Do you have further plans in this regard?
M.B. | We have been well-positioned in the Mediterranean for quite some time with branches in France and Spain, countries that now account for over 25% of our sales and therefore represent a very important share of our business. In smaller markets like Greece and Slovenia, we rely on agents but believe that, where there are significant markets and clients, we need to have a direct presence. With this in mind, we are focusing great attention on the DACH market and those Germany-speaking countries - Germany, Austria and Switzerland - where we soon hope to plant our flag. In any case, we are considering the best option that will provide us with a presence in a significant market such as this, where we believe there is still room. Also, as I mentioned, to support our strategy of internationalisation, we are working in e-commerce also in the area of electronics through development of a platform that will enable us, by the end of the year, to operate in a more structured way also in countries where we do not yet have a presence.
What does it mean to be a family-owned company?
.B. | It means being a company that values people, because it belongs to a family that has certain values and for whom the human element and respect for individuality are vital. It means being a company in which the owners are actively involved in decisions and strategies, supporting change.
These advantages are reflected most notably in terms of flexibility. On the ground, at trading level, thanks to a very short decision-making chain, we can settle business fast and easily adapt to our clients' needs. Internally, on the corporate side, we can quickly establish the goals to be achieved and the investments necessary in order to support them.
Are there any product areas you have not yet covered or driving sectors in which you are investing?
R.C. | We have a complete product range that covers everything from semiconductors to lighting, from passive components to connectors, from electromechanics to batteries and from display products to industrial PCs and networking.
We may not be covered when it comes to sensors and, with this in mind, we are looking for the right partner to develop this product area. As far as our areas of investment are concerned, I could mention the subsystem side, which is undergoing rapid evolution towards Industry 4.0. We have therefore opted to dedicate a division to this market, supplying individual products as well as a complete integrated solution created through software bundling. The sectors we are closely examining include augmented reality and smart glass, in which we are already operating, providing clients with a complete, customised package.
How important are relations with suppliers?
M.B. | Melchioni's strategy has always involved growing supplier loyalty and becoming their trusted 'boots on the ground', particularly where they do not have a local presence. This is demonstrated by our partnerships with Elna, going back over 45 years, with TDK for passive components, with Silicon Labs for active ones, with Panasonic for batteries, with Hongfa for relays, with Bridgelux and Seoul for lighting and with Advantech and I-base for industrial PCs. We present our clients with a single offering under a single banner, and therefore with far greater focus and expertise.
This does not go unnoticed by clients and suppliers, and it undoubtedly sets us apart from our competitors which may offer a choice of different suppliers for a single product family.
What are the application trends in the sectors you operate in, and where do you see opportunities for growth?
R.C. | The sectors we have focused on in the past are industry, automotive, lighting and building automation. In the automotive sector we are, of course, moving towards electric drive systems and are very much involved in projects concerning charging stations. With regard to industrial applications, we are deeply committed to system integrators through digitalisation and Industry 4.0 projects. Networking with the Internet of Things is benefiting from a new development, too, and we also see opportunities for growth and interesting prospects in video security and medical.
To conclude, a summary of 2021 and forecast for 2022. What are your plans going forward?
E.M. | For Melchioni, 2021 has been a very important year during which we have implemented the strategies we had previously identified. This focus enabled us to grow significantly in all the Group's companies, something that naturally brings us great satisfaction. Thanks to a significant backlog together with the type of customised products we sell and client demand which remains strong, we are entering 2022 anticipating another excellent year.
We aim to close the two-year period with a compound annual growth rate of 20%, and we expect to achieve a turnover of 170 million euros at the end of 2022, not far off our mid-period target of 200 million euros. We believe there is still room for growth in the market and are supported by strategic relationships with our suppliers. 2022 will be a very challenging year for us, and we are prepared to be even faster and more dynamic and efficient, projecting Melchioni towards a new dimension. We are therefore entering 2022 on a solid footing, while it is still difficult to predict what 2023 will hold for us, although it appears probable the market will experience a slowdown.